Cannabis Distribution License in New York
Nov. 8, 2021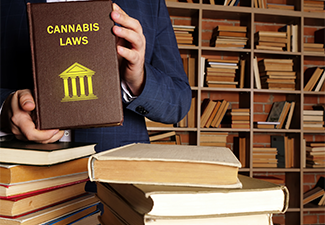 In March of 2021, New York State passed the Marijuana Revenue and Taxation Act (MRTA), legalizing not only the recreational adult use of cannabis but also the cultivation, processing, distribution, and retail sales of the product.
Authority to govern and regulate the new industry was assigned to a newly created Cannabis Control Board and an Office of Cannabis Management, collectively referred to as the OCM. Governor Kathy Hochul recently appointed, and the Senate confirmed, members of both the Board and the OCM.
The governing agencies now need to develop regulations concerning the implementation of the MRTA, hire and train staff, and begin accepting applications for the various operational phases of the burgeoning industry.
If you're seeking entry into the new statewide cannabis industry as a distributor or other licensee, and you're in Long Island, Bellmore, Nassau County, or Suffolk County, contact Lawrence M. Gordon, Attorney at Law, PC. For decades, I have been helping those involved in the state's liquor industry, and I am now turning my full attention to the newly emerging cannabis industry.
Licensing Considerations for Adult-Use Cannabis Operators
The MRTA established social equity provisions for those seeking to enter the new industry. The legislation requires the Board and OCM to give priority to applicants who have been disproportionately impacted by the previous criminalization of cannabis. It also prioritizes minority and women applicants, distressed farmers, and service-disabled veterans.
Adult-Use License Types
For the consumer, the focal point in states where recreational use has been legalized is generally the retail dispensary. In New York, however, the list of licenses available goes well beyond just retail sales and includes everything from cultivation and storage to distribution and sales, even on-site consumption facilities.
In addition to distribution rights, the state will grant licenses for all phases of the marijuana industry, with limitations on who can apply and how many licenses any one person or group may obtain. According to the latest data released, the OCM will issue licenses for and regulate the following operations and establishments:
ADULT-USE CULTIVATOR: The rule is one license per person. A cultivator may also apply for and receive a distributor license, but cannot own or have any interest in a retail operation. Cultivation is described as the "growing, cloning, harvesting, drying, curing, grading, and trimming of cannabis plants."
ADULT-USE NURSERY: Again, the rule is one license per person. A nursery is allowed to produce, distribute, and sell to cultivators and others marijuana clones, immature plants, seeds, and other products used for cultivation.
ADULT-USE PROCESSOR: A processor takes cannabis and manufactures concentrated cannabis or cannabis products. One license per person is allowed, but the processor can also own a distribution license for their own products. No retail sales interest is allowed.
ADULT-USE DISTRIBUTOR: The one-person rule again applies to distributors, who will be allowed no interest in the retail tier. A distributor's license allows the acquisition, possession, distribution, and sale of marijuana to duly licensed retail dispensaries, on-site consumption facilities, and adult-use delivery licensees.
ADULT-USE COOPERATIVE: A cooperative that is "democratically controlled" by its members can obtain a license: "A cooperative license authorizes the acquisition, possession, cultivation, processing, and sale from the licensed premises of the adult-use cooperative by such licensee to duly licensed distributors, on-site consumption sites, registered organization and/or retail dispensaries; but not directly to cannabis consumers."
ADULT-USE MICROBUSINESS: Like a microbrewery, a cannabis microbusiness can cultivate, process, distribute, and retail cannabis. No micro business can have any interest in any other adult-use license type.
ADULT-USE RETAIL DISPENSARY: Up to three licenses per person are available, but they may not have any interest in the cultivation, processing, or distribution of the product.
ADULT-USE ON-SITE CONSUMPTION: The same rules apply here as they do for owners of dispensaries. On-site consumption is similar to a hookah lounge or even a tavern. Consumers can come and consume the product on-site.
ADULT-USE DELIVERY: Only one license per person is allowed, and they are barred from any other type of adult-use license. The delivery service may employ up to 25 full-time delivery persons to supply the product to off-site consumers.
REGISTERED ORGANIZATION ADULT-USE CULTIVATOR, PROCESSOR, DISTRIBUTOR, RETAIL DISPENSARY: The Cannabis Control Board still has to weigh in on how exactly this will be administered, but this type of license allows a "registered organization" to combine the cultivation, processing, distribution, and retail sales aspects of the marijuana business. A registered organization may not have an interest in any other adult-use license type.
REGISTERED ORGANIZATION ADULT-USE CULTIVATOR, PROCESSOR, DISTRIBUTOR: Similar to the above license type, this license includes everything except the retail sales side of the cannabis industry. It faces the same restriction as not being able to own or have an interest in any other type of license.
Obtaining a License
Under the MRTA, counties have until December 31, 2021, to opt out of retail marijuana sales and social consumption. Until that happens, anyone considering an application for distribution or any other aspect of the marijuana industry may have to wait to secure a location.
So far, no details on how or when to apply for a cannabis license have been issued by the OCM, whose board members were just recently appointed. In the meantime, the information provided above allows you to view restrictions on the types and number of licenses available to any individual or group.
Getting the Legal Guidance You Need
If you wish to become a cannabis distributor, you will be restricted to one license and also may have no interest in the retail sales side of the business. You may also want to consider the other types of licenses available, which may suit your background and match your resources better.
Whatever the case is, I have more than four decades of experience in business licensing and transactions and will be happy to help you as you enter the newly created legal cannabis industry in New York. I proudly serve clients in Long Island, New York, and in Bellmore or the counties of Suffolk and Nassau.