Injured While On Medicare: What Happens Now?
Nov. 24, 2014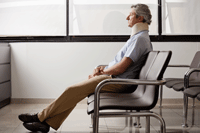 When you are injured in an accident due to the negligent, reckless or willful conduct of another, you may be entitled to receive a settlement. Often times, these settlements are paid out by insurance companies. Unfortunately, if you are a Medicare beneficiary, you may have to forfeit some or all of the settlement you receive.
Medicare is federally provided health insurance. Those that are 65 years or older and some younger people with qualifying conditions have the option to be covered by this type of insurance. If you are injured in an accident, Medicare may cover some of the costs of your medical treatment. But, pursuant to the Medicare Secondary Payer laws, Medicare does not have to pay for medical expenses if an enrollee is receiving a settlement or other award from an insurance company as a result of their injuries. Medicare can ask to be reimbursed for the money it paid out for medical expenses.
Generally, if you are a Medicaid enrollee, are injured in an accident and make a claim against a defendant that has liability insurance, you must report the case to Medicare. Once a case is reported to Medicare and they determine that they may be able to recover any of the money they laid out for medical bills, they will send you a Rights and Responsibilities letter outlining the process. You will then usually receive a Conditional Payment Letter within approximately two months. This letter will detail all of the claims they paid and expect to be reimbursed for once you receive a settlement. It is important to note that the amount listed on the letter is usually not the final amount. These letters are updated and reissued every 90 days and all of the claims on the letter may not be related to the accident. Therefore, you must review the claims to determine which need to be deleted. Once you do this, you can contact Medicare using the instructions included in the letter to have the amount updated. Once you receive a settlement, you must, again, let Medicare know. They will then issue a Demand Letter with a final amount due and the date by which payment must be submitted.
If you were injured while receiving Medicare benefits and have filed a lawsuit, you might find yourself faced with a Conditional Payment Letter. Be sure to show this letter to your attorney as soon as possible.