New York Alcoholic Beverage
Control (ABC) Law Violations
Feb. 1, 2022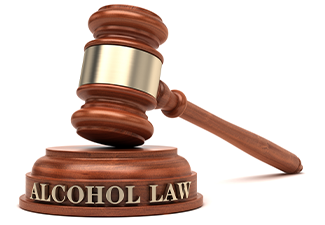 Like every state, New York regulates the liquor industry from manufacture to distribution to retail sales. Retail operations, selling on-site or off-site, must meet several qualifications for obtaining a license to sell. They must post a bond that can be forfeited if there are any violations.
Retail establishments are investigated and policed by the State Liquor Authority (SLA). If any violation is found and proved, their liquor license can face suspension, revocation, or cancellation, and in some cases, criminal charges are levied.
It is hard enough to obtain a liquor license in the state, so protecting your business from violations should be a top priority. The SLA is known to employ under-aged agents to go to establishments, whether bars, restaurants, or liquor stores, and try to obtain liquor illegally. If you are not living up to the law, you could be ensnared.
If you face a disciplinary proceeding for any violation of liquor laws, or if you want to know your rights and obligations as a liquor licensee, contact Lawrence M. Gordon, Attorney at Law, PC.
For more than four decades, I have been helping individuals and businesses throughout Long Island and the Five Boroughs of New York City obtain liquor licenses and comply with New York's Alcoholic Beverage Control Law. I proudly serve clients in Long Island, Bellmore, Nassau County, and Suffolk County, New York.
New York's Alcoholic Beverage Control Law
Established in 1934, right after the end of Prohibition, New York's Alcoholic Beverage Control Law (ABC Law) sought to control the manufacture, sale, and distribution of alcoholic beverages for "the purpose of fostering and promoting temperance in their consumption and respect for and obedience to law."
In 2015, the law was amended to consider "to the extent possible, supporting economic growth, job development, and the state's alcoholic beverage production industries and its tourism and recreation industry; and which promotes the conservation and enhancement of state agricultural lands; provided that such activities do not conflict with the primary regulatory objectives of the [ABC Law]."
The law prohibits local authorities from attempting to regulate liquor manufacture or sale.
Potential Retailer Violations
The State Liquor Authority (SLA) lists eight potential violations of the ABC Law on its website, and topping the list is sale to minors. The eight violations are:
SALE TO MINORS: The SLA, as noted, not only uses under-aged agents to attempt to purchase liquor from a licensee, but it also employs investigators who monitor retail establishments for violations. The SLA website specifically notes that the only valid proofs of ID are a valid state driver's license from New York, another state, or Canada; a non-driver ID card issued by the New York Department of Motor Vehicles; a U.S. military ID; and a valid passport or visa from the U.S. government or from another country.
DISORDERLY PREMISES: An on-premises licensee must not allow their establishment to become disorderly, which the SLA says includes fights, disturbances, the use or sale of controlled substances, prostitution, lewd and indecent conduct, and excessive noise.
INTOXICATED PATRONS: This applies to both on-premises and off-premises licensees. You are not allowed to sell, deliver or give away alcoholic beverages to someone who is visibly intoxicated.
UNLIMITED DRINK SPECIALS: You cannot sell, serve, deliver or offer unlimited drinks during any set time for a fixed price. Free drinks are outlawed, private functions such as weddings and receptions are exempt.
AVAILING: When you obtain your license, it is issued to you and your other applicants. Availing means to transfer ownership or a financial/controlling interest to someone not on the license, even if the original licensee is a corporation or LLC.
GAMBLING: Gambling is prohibited in any form on both on-premises and off-premises establishments, whether the gambling is professional or social. Exceptions exist for authorized lottery sales.
EXTENSION OF PREMISES: When you submit your application, you are also required to submit a description and diagram of the premises. If you expand the premises, that area is considered unlicensed, and sales cannot occur there.
FAILURE TO CONFORM: You must adhere to all state and local laws and regulations concerning the operation of your business, including health, fire, and building codes. Failure to conform to these is a violation.
Penalties Associated with Violations
If you are suspected of a violation, you may receive a letter of warning or a letter of advice, which notifies you that you have violated your license; there will not be a disciplinary proceeding.
Otherwise, you may receive a Notice of Pleading, to which you can plead not guilty, no contest, or conditional no contest. A guilty plea will lead to a civil hearing before a judge. A no-contest plea allows you to make a statement and argue for a lesser penalty. A conditional no contest allows you to admit guilt on the condition that penalties do not exceed certain charges or punishments.
The penalties that can be imposed are:
SUSPENSION: Your liquor license will be suspended for a certain number of days, during which you can neither buy nor sell alcoholic beverages:
CANCELLATION: Your license will be taken away, but you are permitted to reapply.
REVOCATION: Your license is taken away, and the location involved is barred from selling alcoholic beverages for two years.
CIVIL FINE: You could face a civil fine for each violation, which sometimes can exceed $10,000.
BOND CLAIM: The $1,000 penal bond you submitted with your application might be forfeited.
Note that criminal charges may also result.
How Legal Counsel Can Help
The best way to avoid being caught up in a violation is to adhere to your obligations as a licensee and ensure your employees follow the same rules. If you face a Notice of Pleading, you should seek legal representation from an attorney experienced in these matters.
With my four decades-plus of dealing with the ABC Law, liquor licenses, and the SLA, contact me at Lawrence M. Gordon, Attorney at Law, PC, immediately if you are facing a violation in Long Island, Bellmore, Nassau County, or Suffolk County, New York.