"The Baseball Rule" & Sporting Event Injuries
Dec. 28, 2015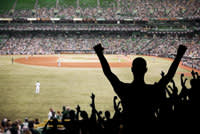 Each year, over 70 million tickets to Major League Baseball games are sold in cities across the country. Fans flock to these games for the live action – the opportunity to see their favorite players in the flesh, enjoy a few hot dogs and belt out the fan favorite "Take Me Out to the Ballgame" with thousands of other die-hards during the seventh inning stretch. Unfortunately, each year some of this "live action" causes injuries to spectators when a foul ball or flying bat (and occasionally, a player trying to get that heroic out) finds its way into the crowded stands. If you've witnessed one of these incidents or have been a victim of one, you've likely wondered what happens next? Will the team pay for medical care? Does the injured party have a right to sue?
Under "the baseball rule" owners must demonstrate a high degree of care for visitors to their stadiums, taking measures to protect spectators in high-risk areas (such as behind home plate) and areas where spectators can expect to be protected. Under the rule, spectators in the unprotected areas of the stadium should assume the inherent risks of the game that include balls travelling at very high speeds and pieces of equipment that might be propelled into the seating areas.
On the back of nearly every ticket for a professional sporting event, you will find a warning of these inherent risks, and a statement that explains that the team and stadium is not responsible for any injuries resulting from the game. This ticket is seen as a form of an adhesion contract which is a standardized agreement that a party is bound to once they purchase the ticket (even if the ticketholder was unaware of the terms and failed to read them prior to attendance).
In deciding civil suits pertaining to injuries at baseball games and other professional sporting events, the courts have often looked to the baseball rule in making their judgments. It is, however, important to note that not all states adhere to the rule that limits the liability of owners assuming the standard of care to visitors is met.
In one recent case Rountree v. Boise Baseball, LLC, et al., the Idaho Supreme Court balked at the century old baseball rule and ruled that a gentleman who had lost his eye when he was hit with a foul ball at a game of a minor league affiliate of the Chicago Cubs could seek damages from the baseball organization.
If you've been injured at a major sporting event, you may be entitled to seek compensation for your pain and suffering. It's important that you contact an experienced personal injury attorney who can help you understand the laws in your state, all applicable court rulings and work with you to determine the best strategy for recovery.