Top Five Estate Planning Mistakes
Jan. 9, 2017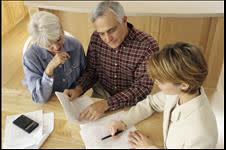 In spite of the vast amount of financial information that is currently available in the media and via the internet, many people either do not understand estate planning or underestimate its importance. Here's a look at the top five estate planning mistakes that need to be avoided.
1. Not Having an Estate Plan
The most common mistake is not having an estate plan, particularly not creating a will - as many as 64 percent of Americans don't have a will. This basic estate planning tool establishes how an individual's assets will be distributed upon death, and who will receive them. A will is especially important for parents with minor children in that it allows a guardian to be named to care for them if both parents were to die unexpectedly. Without a will, the courts will make decisions according to the state's probate laws, which may not agree with a person's wishes.
2. Failing to Update a Will
For those who have a will in place, a common mistake is to tuck it away in a drawer and be done with it. Creating a will is not a "once and done" matter as it needs to updated periodically, however. There are changes that occur during a person's lifetime, such as buying a home, getting married, having children, getting divorced - and remarried, that need to be accurately reflected in an updated will. Depending on the circumstances, a will should be reviewed every two years.
3. Not Planning for Disability
While no one likes to think about becoming ill or getting injured, an unexpected long-term disability can have devastating consequences on an individual's financial and personal affairs. It is essential to create a durable power of attorney to designate an individual to manage your finances if you are unable to do so. In addition, a power of attorney for healthcare - or healthcare proxy, allows you to name a trusted relative or friend to make decisions about the type of care you prefer to receive when you cannot speak for yourself.
4. Naming Incapable Heirs
People often take for granted that their loved ones are capable of managing an inheritance. There are cases, however, when a beneficiary may not understand financial matters or be irresponsible with money. In these situations, a will can appoint an professional to supervise these assets, or in the alternative a "spendthrift trust" can be put in place.
5. Choosing the Wrong Executor
Many individuals designate a close relative or trusted friend to act as executor, but fail to consider whether he or she has the capacity and integrity to take on this role. By choosing the wrong executor, your will could be contested, leading to unnecessary delays, costs and lingering acrimony among surviving family members.
The Takeaway
In the end, estate planning is really about getting your affairs in order. By engaging the services of an experienced trusts and estates attorney, you can avoid these common mistakes, protect your assets and provide for your loved ones.