What Is the Burden of Proof in A Personal Injury Case?
June 27, 2016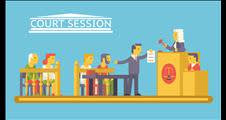 "Burden of proof" refers to the requirement that a plaintiff must demonstrate to prevail in a lawsuit. In a criminal case, the burden of proof is "beyond a reasonable doubt," meaning that the prosecutor must prove that a defendant is guilty to a degree that a reasonable person would not hesitate to think he or she committed the crime.
In any civil case, however, the burden of proof is much easier to meet. In a personal injury lawsuit, the plaintiff must prove the facts in his or her favor by a preponderance of the evidence. This means that if the weight of the evidence is on one side, that side wins the case. It is a simple comparison. This is the reason why a person could be found not guilty of committing a crime, but still be held financially responsible for that crime. There are well known examples of cases in which those accused of murder won an acquittal in criminal court. When the victim's families filed civil suits for wrongful death, however, the defendants were found liable. Even though the evidence presented in the criminal trials did not prove the defendants' guilt beyond a reasonable doubt, the preponderance of the evidence in the civil cases proved sufficient.
In every case, there are different elements that all must be proven by a preponderance of the evidence. For example, in a case for which a plaintiff claims that someone else's negligence caused them an injury, that plaintiff must prove four separate elements. First, he or she must show that the defendant owed a duty to the plaintiff, second, that the duty was breached, third, that the plaintiff suffered an injury, and finally, that the defendant's breach was the proximate cause of his or her injury. When there is a motor vehicle accident, the defendant's duty is to follow the rules of the road and to drive safely. It is breached when the defendant fails to do so. A plaintiff also has to prove that he or she suffered real injuries and that those injuries are the result of the car accident. Without having proved all the elements of the case by a preponderance of the evidence, a jury will find against a plaintiff.