What to Know About Selling
CBD Products in New York
Jan. 23, 2022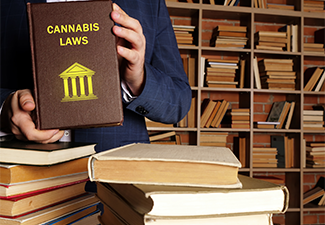 Since the federal Farm Bill was enacted in 2018, the sale of products made from hemp has been legal in the United States, and in early 2021, New York issued regulations governing cannabidiol (CBD) products. CBD is one of many identified cannabinoids, which are naturally occurring compounds found in cannabis plants.
Under both the Farm Bill and New York regulations, the sale of CBD products is permitted so long as those products contain no more than 0.3 percent of THC, or delta-9-tetrahydrocannabinol, the high-inducing cannabinoid in cannabis.
CBD products are known to have some medical benefits and are sold in various forms such as oils, gummies, pills, capsules, and topicals. In New York, CBD is allowed in food and beverages but not in combination with alcohol or tobacco. It can also be vaped.
If you wish to enter the growing CBD market in New York State, contact Lawrence M. Gordon, Attorney at Law, PC. I have long helped clients seeking entry into the liquor industry, and I have now expanded to include the marijuana and CBD markets. My firm proudly serves clients in Long Island and the surrounding areas of Bellmore, Nassau County, and Suffolk County, New York.
CBD Licensing in New York State
The state's Office of Cannabis Management is accepting licenses for retail and distributor CBD operations. A Cannabinoid Hemp Retail License costs $300 per year per location. A Cannabinoid Hemp Distributor Permit likewise costs $300 and must be renewed each year.
Along with the fee and application, you must provide:
A summary and description of the type of cannabinoid hemp product(s) you intend to sell (e.g. tincture, food, vape, topicals)

Source(s) of the cannabinoid hemp products from whom you intend to purchase, which includes the name and contact information of any manufacturer or distributor

Proof from the Department of Taxation and Finance that you are registered to collect sales tax in New York State (applicants will upload a copy of their Certificate of Authority for each applicable retail location)

An attestation that you will comply with the rules and regulations of the New York State Cannabinoid Hemp Program
CBD Regulations
Effective in early 2021, the state's hemp product/CBD regulations declared that:
No CBD product can contain more than 0.3 percent of THC.

No individual food or beverage product can contain more than 25 milligrams of hemp-extracted cannabinoids per serving. (In supplements, such as salves or tinctures, the product can contain up to 3,000 milligrams).

Food and drink products infused with CBD and other hemp extracts must be packaged by the manufacturer. They cannot be added later; for instance, a bakery cannot add CBD to its brownies.

CBD-infused products can't be advertised or labeled as curing any specific diseases or ailments.
FDA Regulation and the Uses of CBD
The Farm Bill authorized the Food and Drug Administration (FDA) to regulate the manufacture of hemp products. It has actually licensed one such product as a prescription medicine, Epidiolex, which is used to treat epilepsy.
In addition to its use as an antiseizure medication, CBD is also said to be effective for anxiety, pain, arthritis, PTSD, a muscle disorder called dystonia, Parkinson's disease, Crohn's disease, and many other conditions. A handful of studies has also indicated CBD is useful for inducing and maintaining sleep. However, the FDA is wary of many of these claims.
Since 2018 and the legalization of CBD products, the FDA says it has issued several warning letters to companies that were:
"…marketing unapproved new drugs claiming to contain CBD, including for uses such as treating cancer or Alzheimer's disease. These products were not approved by the FDA for the diagnosis, cure, mitigation, treatment, or prevention of any disease. Consumers should beware of purchasing and using any such products. The FDA also tested the chemical content of cannabinoid compounds in some of the products, and many were found not to contain the levels of CBD they claimed to contain."
Types of CBD Products
There are three types of CBD products, known as full-spectrum, broad-spectrum, and isolates. Full-spectrum means the CBD was manufactured from all parts of the hemp plant. Full-spectrum CBD is said to produce what is called the entourage effect, where the mixture of cannabinoids and terpenes work together to produce a more pleasant experience. Broad-spectrum production includes many parts of the hemp plant, but the result is only trace amounts of THC. Isolates contain only the CBD found in the plant.
How Legal Counsel Can Help
The CBD marketplace is currently wide open for retailers and distributors, but it's not necessarily a slam dunk to get a license just by submitting your application and fee. You also must show that you are going to adhere to the licensing requirements and other CBD regulations.
I am currently helping entrepreneurs enter the burgeoning cannabis industry, and I will be happy to help anyone looking for opportunities in the CBD marketplace specifically. Contact me today at my office, Lawrence M. Gordon, Attorney at Law, PC.
I proudly serve clients in Long Island and the surrounding areas of Bellmore, Nassau County, and Suffolk County, New York. Call today to set up an initial consultation.