Why You Need a Personal Injury Attorney
June 19, 2017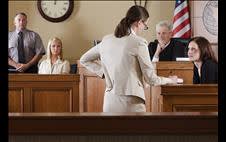 If you have been in injured in an accident, the consequences can long lasting. In addition to pain and suffering and medical expenses, you may be unable to work or provide for yourself and your family.
That's the bad news. The good news is that you may be entitled to meaningful compensation if the accident was the result of the negligent or reckless conduct of another person.
In order to determine if you have grounds for a lawsuit, however, it is crucial to engage the services of an experienced personal injury attorney. While many injury claims are settled through a negotiation with an insurance company, insurers are more concerned about profits than injury victims. These companies typically make settlement offers that are far below the full value of the claim. In addition, the scales are tipped in their favor because insurers has vast financial resources and teams of attorneys, claims adjusters, medical experts and private investigators. For this reason, it is crucial to have an attorney in your corner who will fight for right to just compensation.
In addition, personal injury attorneys often have expertise in assessing claims and can help determine how much you case is really worth. Moreover, injury claims involve a number of complexities such as obtaining evidence that will support you case, interviewing witnesses, reconstructing the accident scene, all of which are aimed at demonstrating the other parties liability.
It is also necessary to submit doctor's reports, medical tests, proof of medical expenses and other relevant information. Because attorneys often collaborate with a network of medical experts and investigators, they can level the playing field against the insurance company. Lastly, most personal injury cases are handled on a contingency basis, which means that you do not pay attorney fees unless you recover settlement money.
If you were injured in an accident that was not your fault, you may be able to recover damages for pain and suffering, lost wages, medical expenses and property damage. A savvy personal injury attorney will also ensure that any settlement considers future physical, emotional and financial harm you may suffer.
Being injured in an accident is a frightening experience, and the road to recovery can be long. Don't go it alone, call a personal injury attorney today.